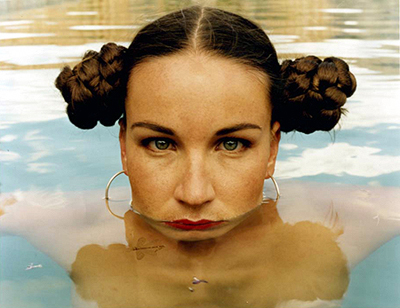 Conceived in Tunisia, born in Switzerland, Sondra Goodwin, of British-American, German and Hungarian-Gypsy descent immigrated to the U.S. when she was a teenager and finished high school in Connecticut. Having lived in Switzerland, France, Argentina, Ecuador and the United States, she considers herself a European child, a U.S. teen and a woman of the world.
After attending Maryland Institute College of Art and having traveled the globe she finds creating the most satisfying adventure. She now dedicates her money to making art and her time to working in the studio. Her work has been seen at the Museum of Fine Arts, Santa Fe, NM, in various group exhibitions and juried shows around the country, and a one woman show at CMC Gallery in Santa Fe.
In collaboration she created "The Wrestling Party", a fusion of video, installation, music, live wrestling and reading prose, which was presented at The Center for Contemporary Arts in Santa Fe. She also stared in the televised version of "The Wrestling Party" which appeared on HBO's show "Real Sex", and wrote directed and edited "take her down!". Her picture appears in Madeleine L'Angle's book "Mothers and Daughters", and her voice performance was featured in the critically acclaimed CD "Il Bacio" by the band Grandpa's Ghost.
She is currently finishing numerous video, photography and performance work in progress, looks forward to expanding her knowledge, presenting her work, and starting new projects, in short she is a supermodel trapped in the body of an East German swimmer